Veronica & Derick had an incredible Brooklyn Botanic Garden Wedding in the Spring filled with bloomingCherry Blossoms! This fantastic couple has an equally fantastic backstory. They met in college but later found out that they had previously met before in kindergarten. Also, they share the same last name already. I have never had that happen in 14 years of capturing weddings.
Staying over the night before
One thing I always suggest to brides for planning their weddings is to remove any variables that can cause problems throughout the entire day. Whenever I am at a venue that is 90 minutes or more away, in a very high traffic area, or it's holiday weekend, I always suggest to get us a room the night before. Staying over the night before is great for several reasons: First don't have to worry about traffic or accidents. Second, we will be able to be fresher and be a better artist with less stress of traveling and can focus on the couples and their families. Thirdly, I always get to meet the bridal party and parents the night before which adds to the overall experience for everyone on the wedding day.
Ceremony & Reception: Brooklyn Botanic Garden
Florist: NYC Flower Project
DJ: Sean Marquand
Bride's Dress: Liancarlo – Kleinfeld
Bride's Shoes: Jimmy Choo
Bridesmaids Dresses: Jenny Yoo
Groom's Tux: Hugo Boss
Cake: Patina at Brooklyn Botanic Garden
Videographer: byDesign Films
Catering: Patina Events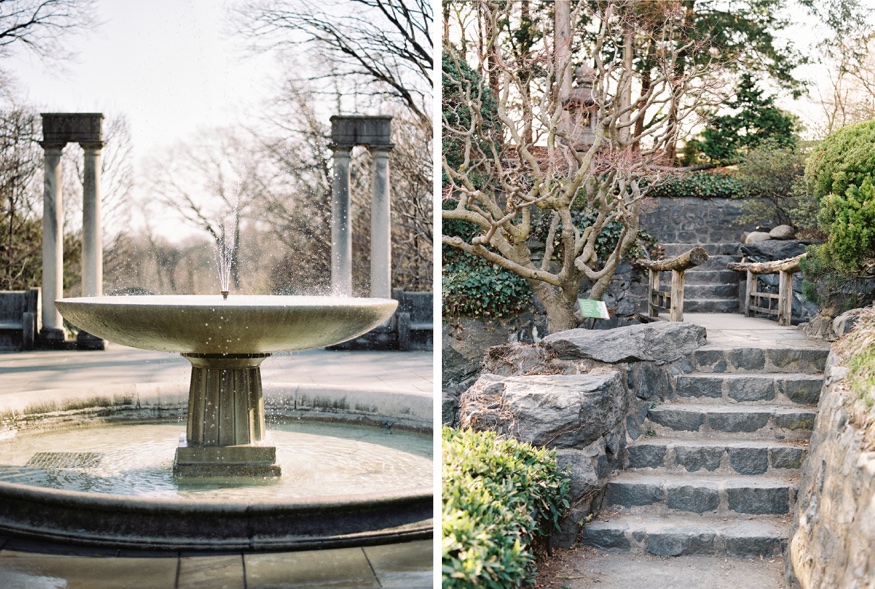 Bridal Preps in Brooklyn
They had all their bridal preps at a hotel in Brooklyn. Derick got ready in a separate hotel on the next block as they were initially planning to bring their two unique, beautiful dogs with them for the wedding day. Veronica's mom was such a fun and fantastic helper on the day. She was pumping up balloons upon balloons for the hotel room even though they were not allowed to bring them to the Brooklyn Botanic Garden for the wedding. She was using a foot pump, and she was pumping for like 15-20min straight. But we did use the balloons in the room for preps with the bridesmaids.
Derick's room was pretty swanky at his hotel! There was a random hammock in the middle of the room with windows surrounding on two sides with beautiful natural window light. The bed was crazy. It was inset into an area completely covered in leather.
Bride/Groom first look at Brooklyn Botanic Garden
Well after battling some Brooklyn NY traffic we made it to the Brooklyn Botanic garden. The staff and security there are great even with crowds of people on the grounds. We found a beautiful spot for their first look above the indoor reception area there. The minute he turned around and they saw each other you can see both their eyes fill up with emotion. My second photographer and I stay incognito and capture every moment of it!
Brooklyn Botanic Garden bridal portraits
Because of the weird spring weather we had, there was not a ton of cherry blossoms bloomed yet. There were, however, several beautiful trees that we scoped out the day prior when we did a site walkthrough. The bridal party and couple all were photographed around this central area that was filled with cherry blossoms. Then I took the couple just around the park to this Japanese gardens which were quite busy but still found some beautiful little areas to shoot.
Brooklyn Botanic Garden Wedding Ceremony
The service area is quite incredible. They have a gorgeous long walkway for the bride to come down and stone step walkway for the guests to come up. The front of the ceremony area has a classic flowing water fountain sculpture. The ceremony was emotional, beautiful and heartfelt. It did go about a full hour which is rare for outdoor ceremonies, and the weather dropped. It was so hot during the day that I did not prepare for cold and windy conditions. When that ceremony was over, I did their family formals in about 8 minutes to get them inside.
Brooklyn Botanic Garden Wedding Reception
The indoor Brooklyn Botanic Garden Wedding reception takes place by the main entrance which is convenient for guests and our photobooth 😉  The building is unique space shaped like a modern white football if viewed from above. Veronica had a cherry blossomed theme for her wedding, and her details were fabulous. They partied pretty hard after their choreographed first dance together. The guests also went crazy for our photobooth. Guests were surprised by having full 4×6 prints of each photo taken in the booth. We finished their evening with a quick night portrait in front of the cherry blossom trees.
Afterthought
I had a fantastic time working with Veronica and Derick. They were just a pleasure. I love the album color they picked and their Wall Art selections from their GTKY session and their wedding. Best wishes!