Battling COVID-19 together is tough and god bless my past brides who are doctors and nurses helping! I have worked with many amazing people over the last 15 years of being a Philadelphia wedding photographer. Right now life is tough for small businesses like my own and the hospitality industry is hit very hard. All I can do is stay home to flatten the curve while waiting for Wegmans food orders and Amazon packages to arrive.
While most people are struggling or out of work there are many professionals working harder with more stress and challenges then ever before.
You are our heroes battling the Corona Virus
I would like to give a special thanks to all the nurses and doctors out there working as our troops on the front lines of this pandemic. You are helping people fight for their lives, working tirelessly to make them comfortable while they deal with this virus. You are our heroes right now and I thank you from the bottom of my heart.
Here are a few of my amazing past brides that have been battling this virus for all of us!
A Real Bride's Story Battling COVID-19
One of my current clients wanted to share her experience battling this COVID-19 virus first hand.  It is very touching and heartfelt.  I am not giving any picture, location or names to keep her anonymity. (this is not from the bride pictured above)
 I am a resident physician training. I remember taking my oath as a physician to care for the sick to the best of my ability. No where do I remember signing up to be a sheep led to the slaughter. However, in the hospitals this is what it feels like for resident physicians. Compared to other physicians in the hospital, we are all generally younger, healthier, single, and without children. And so, we are the obvious choice to be the frontlines of COVID. Coronavirus generally affects the older population with multiple medical problems, hence statistically, if residents became sick with the coronavirus, we'd have a higher chance of recovering and can then continue to work. And, if we didn't recover, most of us don't have a spouse or children and could be forgotten easily.

For this reason, Residents cover the majority of the COVID floors, where we interact with only COVID positive patients. While we are working in the hospital, constantly exposed to the virus, other physicians are working from home or doing telehealth visits. I understand why this decision was made, because yes, based on the facts we are the obvious choice to be the primary physicians dealing with the COVID patients. However, I can't help but feel unsupported during this time and just another toy soldier in the hospital's administrations army. I am human. I have emotions. And, right now I am scared.

My fiancé has told me I have an uncanny ability to fall asleep instantaneously no matter where we are. Time from hitting the bed to falling asleep is usually about 0.003 seconds. However, in the midst of the coronavirus pandemic it takes me over 2 hours to start falling asleep. I am a physician on the frontlines of coronavirus. Every day, the hospital is filled with uncertainty due to the novelty of this disease. I am uncertain which patients are going to get worse and which ones better. I am uncertain if any of these medications we are giving patients are actually helping. I am uncertain how to comfort loved ones over the phone after I am forced to tell them, yes—your loved one is dying but no—you cannot visit them. I am uncertain if my protective wear is really enough to shield me from infection. With work, I am constantly on edge. Most people can leave work at the door when they come home, but during this pandemic, I will tell you no healthcare worker can. My mind continues to race at home – did I make the right decisions today? Will my patient be okay for the 8 hours I am away from them? Did I remember to wash my hands after holding that crying patient's hand? What if the virus is still on me despite my 30 min shower? I am in constant worry I will infect others because of exposure to COVID patients, and though I have no signs of symptoms I refuse to see my family or fiancé for fear of getting them sick. The result? I am sitting at home, alone, often in tears, having panics attacks every night before bed—only to wake up the next morning and relive the whole thing over again.  ~Current resident physician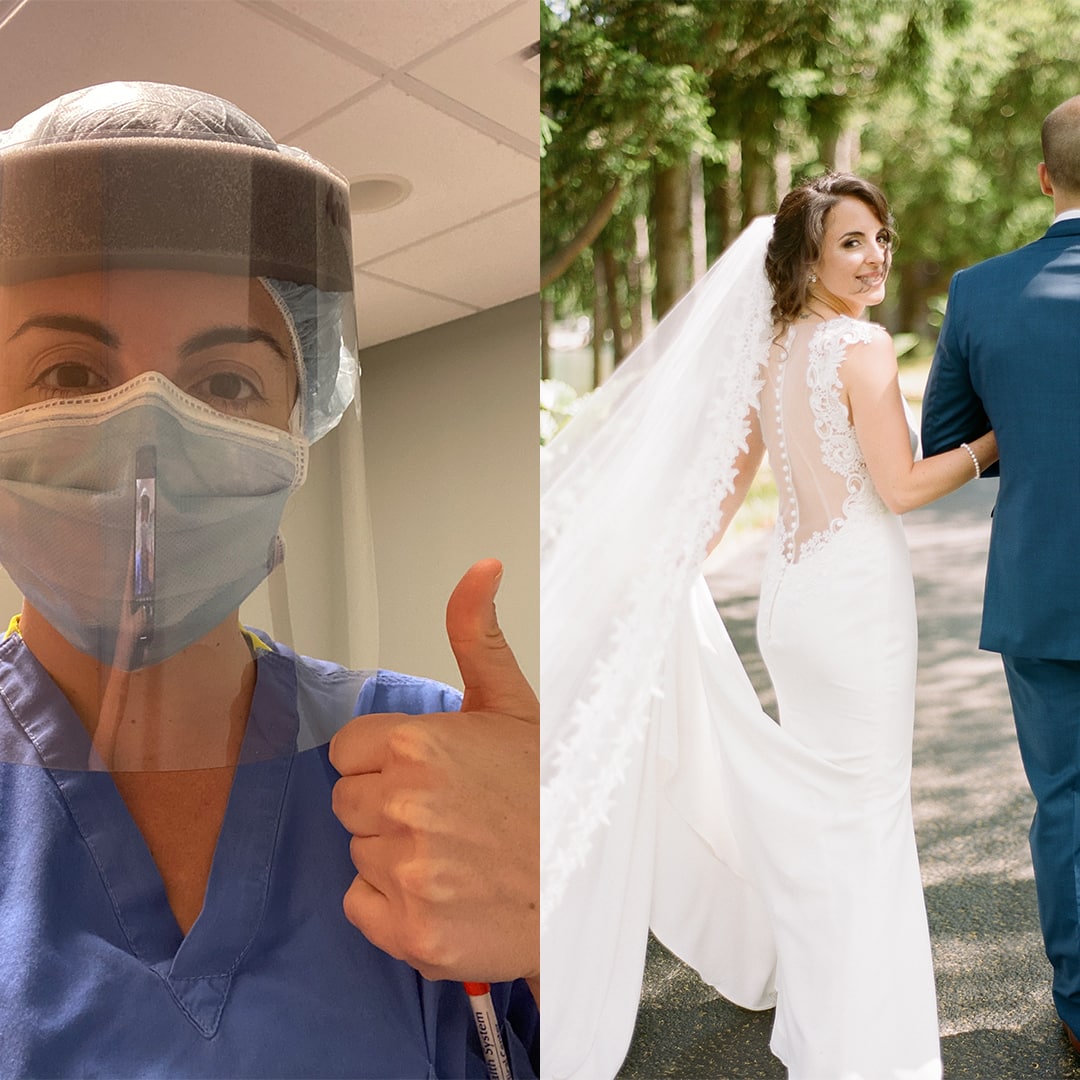 View Lauren's Cinema wedding edit from her Windrift Wedding

Pediatric Nurse working with COVID-19
"I work in pediatric nursing. Obtaining vital signs and assessing kiddos can always be challenging but it's more difficult now. My smiling face and kind eyes are buried behind large goggles and a scary face mask. The small toys on my stethoscope which I use to calm anxious littles are hidden under a big plastic gown that protects me."
View Christina's VUE 50 wedding here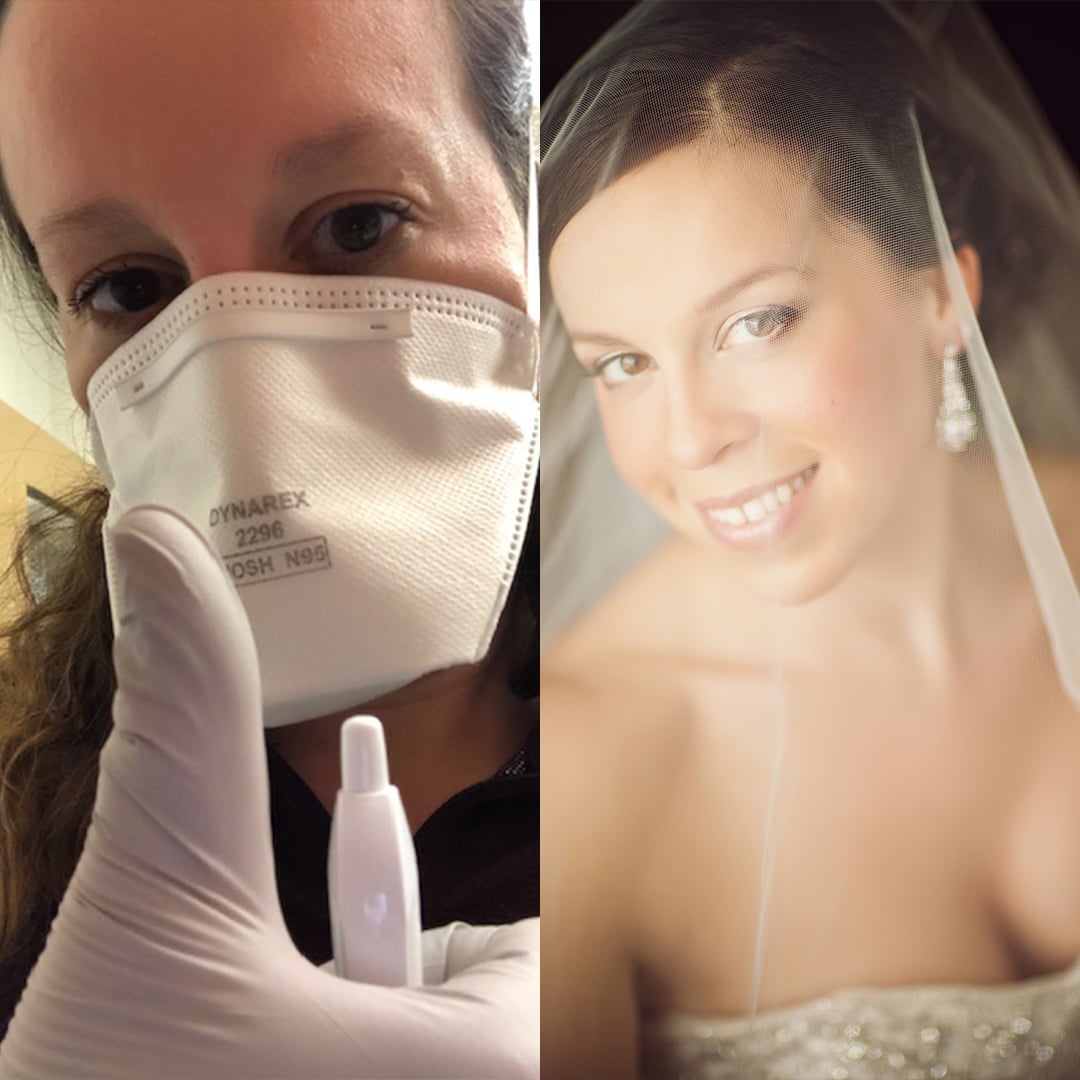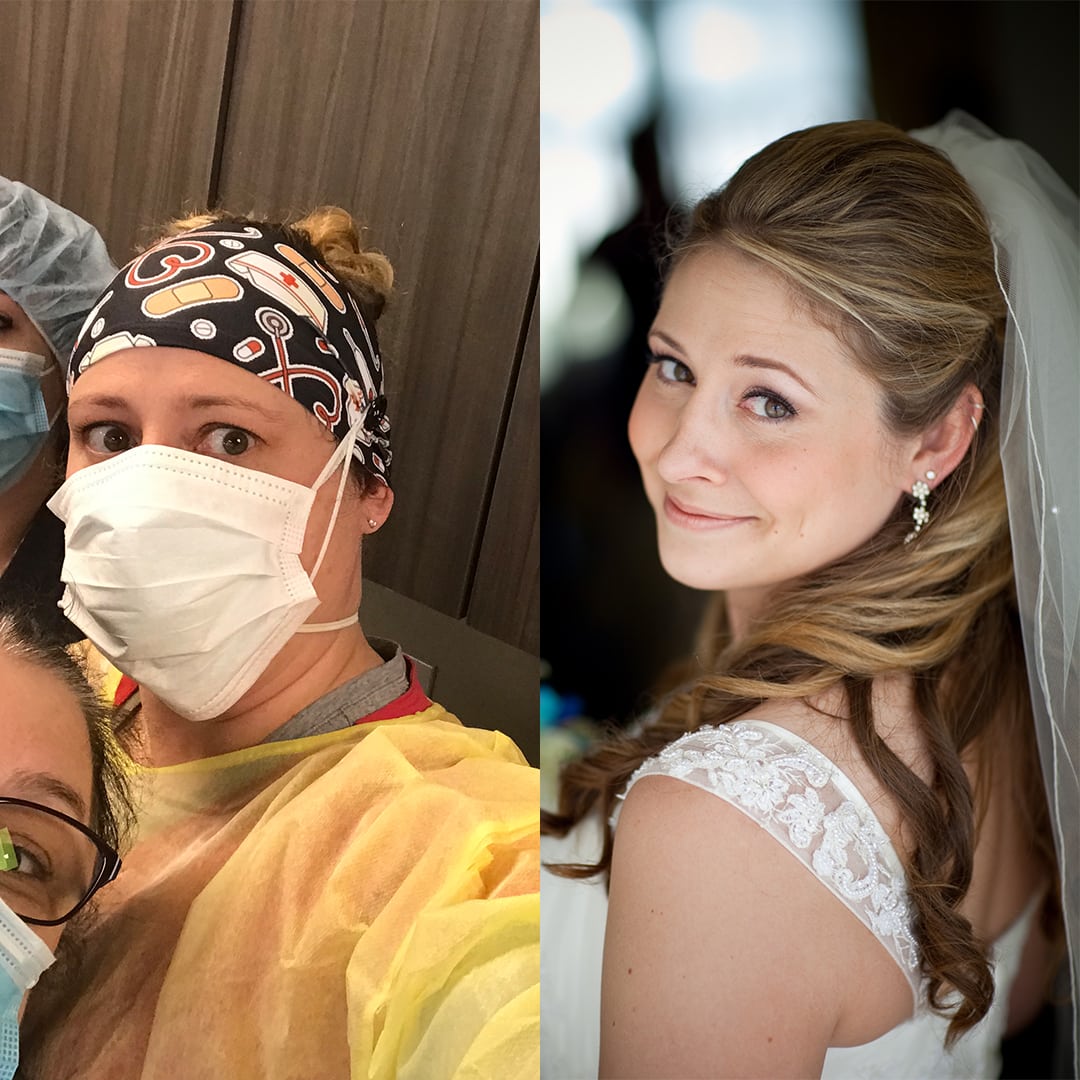 Philadelphia Pediatric Nurse working with COVID-19

I am a pediatric nurse practitioner and I provide healthcare services to patients from birth through young adulthood. My experience with COVID-19 has been a bit different than what is shown on the news. In general, my patient population does very well with this illness. Many have said that we are lucky in pediatrics because the majority of our patients don't get as sick. While this is true and I am grateful for that, I still get an ominous feeling whenever I go to work. Preliminary research shows that children with COVID-19 generally have mild signs of infection or don't show any signs of the illness at all. Essentially, I'm treating the vectors! I'm constantly worried about contracting the virus from one of my patients and then bringing it home to my family. 

In practice, I have several patients with chronic health conditions like congenital heart defects and asthma. I also see premature babies who are fresh out of the NICU. These little ones already had a rough start at life and now they have COVID-19 to worry about. I care for newborns with little to no defenses and children with acute anxiety that is directly related to the pandemic. 

I am seeing a drop in the number or young children coming in for preventative healthcare services including immunizations even though we are taking drastic measures to keep our facilities safe. This is really scary because it could create another wave of infection from vaccine-preventable illnesses in the future. 

Sometimes it's hard to sleep at night because I am so worried about my little patients! They are always on my mind. 

Even though this is a scary and difficult time, I am happy that God called me to this profession. I don't think that I was made to do anything else. It is truly an honor and a privilege to care for the children of our future.
Please forward this to anyone that needs help with their cancelled wedding or lost their wedding photographer/videographer due to COVID-19.
I am here for them and you!