Brittany and Chris had gorgeous spring Ballroom at the Ben wedding photos in Philadelphia, PA.  They started off the festivities with all the girls at Brittany's parents' house in Newtown Square, PA. I spent a bit more time with her details since we came early.  Her parents had a very rustic shed with worn green painted shutters that were perfect for her dress from L&H Bridal.  Something I suggest to all brides now is to block off about 30 minutes of time just for the photographer to shoot details.  It allows more creativity to really rock those Manolo Blahnik bridal shoes.
Ceremony: St Anastasia Church
Reception: Ballroom at the Ben
Florist: Marcus Hook Florist
Hair & Markup: Blush Salon
DJ: Sid Miller Dance Band
Videographer: Stomping Bread
Bride's Dress: L&H Bridal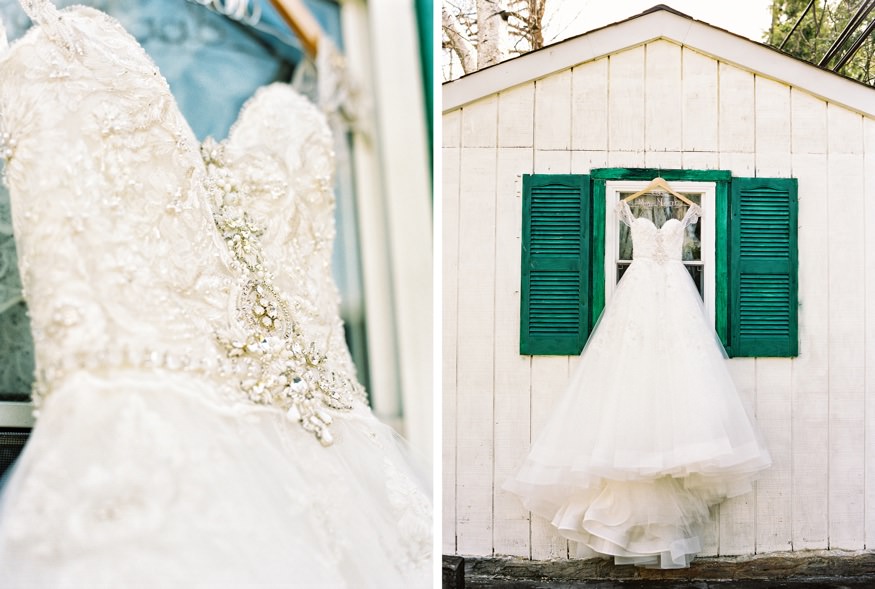 Ceremony at St. Anastasia Church in Newtown, PA
The ceremony was super close to her parents' house, about 5 minutes.  They had a beautiful hour-long ceremony.  However, my favorite moments are those natural ones before the ceremony starts.  The excitement of Brittany arriving.  The bride exiting the limo or Rolls Royce in Brittany's case. Chris pacing nervously in the front room at the church.  The best things in life are not the moment but those things that lead up to that.
Bridal portraits Aronimink Country Club
Brittany had her heart set on photographing with outdoor greenery for her early spring wedding.  She found the Aronimink Country Club which was not far from the church.  We did not get permission, but that never stops me from shooting.  I am a damn rebel, haha. Actually, we just used the driveway coming into the club.  The soft natural light was perfect for my photography style. We rocked it for about 15 minutes before we drove off to shoot in Philly.
Bridal Party photos at Washington Square Park and City Hall in Philadelphia
Our plan was to go right to City Hall and then to Washington Square Park.  Because it was so cloudy, we were losing light really quickly. I made a quick change with the limo bus driver and we did the park first.  This turned out perfect to shoot their large bridal party. They were a pleasure to work with and tons of fun as I don't like a stiff bridal party.  You are there to have fun and be together so bring your party hats!
Ballroom at the Ben wedding photos – Reception
Ballroom at the Ben wedding photos in Philadelphia are stunning.  It is even more amazing since they just completed new renovations this past year.  Great job again Finley Catering! The Sid Miller Dance Band rocked out and had everybody on the dance floor. My main man Andrew from Stomping Bread Productions was there to capture it on video.
Best wishes to Brittany and Chris!  We made for them an amazing custom gold wedding album.  She loves the gold!