Dara & Brian had a perfect Mallard Island Yacht club wedding in the summer down at Long Beach Island, NJ.  I think it is Manahawkin, but it's close enough.  The weather was incredible, the bridal party was down to have a great time, and the hair/makeup was definitely on time!
Ceremony & Reception: Mallard Island Yacht Club
Dress: Priscilla of Boston
Florist: Janae Santana
DJ/ Band: Jon Bates Bands    
Mallard Island Groom Shack
Brian and his groomsmen all were hanging out in the groom's shack which is not in the main building but close to the pier out back.  They did an excellent job with all the details in there to make it as nautical as humanly possible.  I try to make the vibe very laid back when I am shooting, so I gave the guys a little direction and had them play cornhole and just have fun.
Mallard Island Yacht Club wedding bridal suite
Now so that you know the owners of Mallard Island are not messing around!  The bridal suite is one of the most opulent and extravagant bridal suites I have seen in my hundreds of weddings captured. The views, the marble, high ceiling, and décor; no expense was spared when building this stunner of a location. If you are a bride getting ready there I guarantee you will feel fantastic from the surroundings alone.
Mallard Island Yacht Club wedding portraits
Dara and Brian had a private 1st look together down by the chapel.  There was no one else around just the couple.  We then had a great time hitting all the beautiful shooting locations on the grounds.  There is no reason ever to leave the venue here to photograph.  They have the small beach, the pier, the garden area in front of the pier, the chapel and underneath the building to name just a few of the locations.
Mallard Island wedding ceremony
In the summer the chapel has its side doors and covers up so that you can get the beautiful ocean breeze keeping you and your guests comfortable.  The light is stunning in the chapel and rarely would you ever need to use a flash as there is such an abundance of natural light immersing everyone.
Mallard Island wedding reception
The reception is stunning at Mallard Island.  The dancefloor being semi-open at night with its black marble floors are incredible.  Also, the grounds are magnificent to photograph the couple at night and if the groomsmen have cigars, light them up!  I had a fantastic day with Dara & Brian and wish them the best!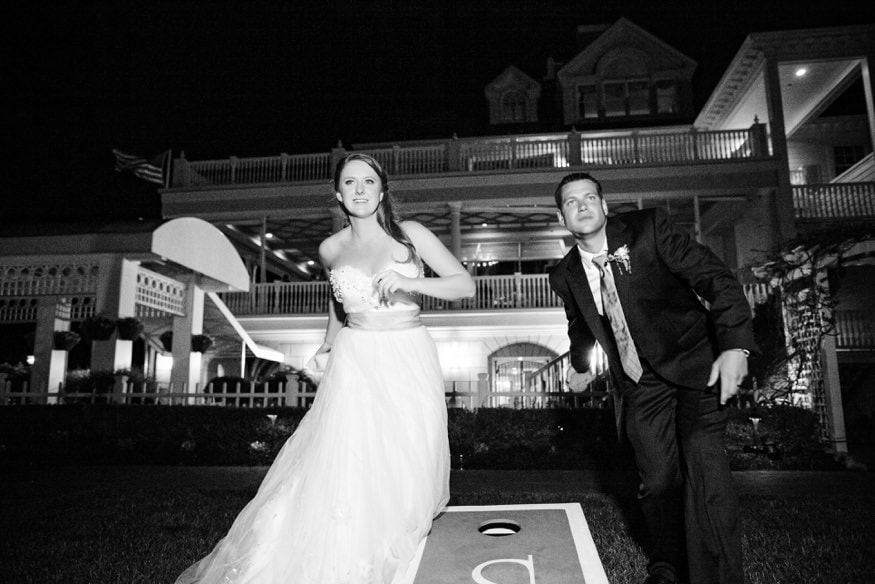 Check out their entire story as told i there album by clicking this text